Where do we go from here?—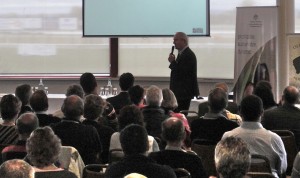 Legal standards and chemistry were only part of the ground covered at the Australian Olive Association National Conference. A significant amount of time was devoted to the world of promotion and marketing, and how this informs the efforts at charting a course for the future. During his opening remarks, Paul Miller, president of the AOA, highlighted the importance of the marketing and education that is done by olive oil companies, particularly highlighting the contribution of smaller producers who spend a lot of time interacting with their customers. This theme of connecting with consumers was repeated throughout the conference. In talking about changing expectations and realities in the market, he cited coffee as an example of a product that had changed completely over the past two decades. It went from a cup of instant or very basic Joe (for 25 cents), to a double latte made with Fair Trade beans from Ecuador (for $4.25). Extra virgin olive oil awareness, appreciation, and hopefully, prices can follow the same path.
Another theme Paul Miller emphasized was that of collaboration between Australian and other New World olive oil industries.  In a panel discussion of the New World olive oil markets and actions taken to restore trust, one of the participants, Andries Rabie from South Africa, said that their olive oil association had managed to get a 40 cent levy on imported olive oil passed. The money is to be spent on generic olive oil marketing. Dan Flynn gave a summary of the work being done at UC Davis Olive Center in research and education, and mentioned an upcoming class for olive oil buyers that will focus on teaching them how to assure they are buying quality olive oil. A lively exchange ensued about the challenges of consumer outreach; just how far is too far in the promotion of good olive oil? Rod Mailer of the New South Wales Dept of Agriculture (he did olive oil chemistry before olive oil chemistry was cool!) observed that there was a frequent cry of "wolf!" on the part of the olive oil establishment. "We won't destroy the olive oil industry by exposing the problems and telling the truth," he said.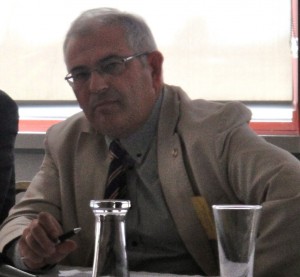 Manuel Parras Rosa of the University of Jaén, gave a marketing perspective on labeling and standards. Professor Rosa is positioned at the ground zero of olive oil, Andalusia, and his observations and research are particularly significant. He spoke of the concentration of power in the hands of a few distributors, and of the proliferation of house brands of olive oil. He sees cooperation between growers as a way of countering this trend, by growing their market opportunities and cutting costs by increasing their buying power. "We need to support the honest producer with investment in research, and with cooperation between industry and academia," he said.
Professor Parras Rosa mentioned the opportunities presented by tourism, and by other uses of olive oil, such as cosmetics. He cited interest in food safety and quality as a factor that supports the real extra virgin olive oil industry, as well as the awareness of the health benefits. Another place he sees potential for advancing the olive oil industry is in championing environmental stewardship and combating climate change.
His segment about marketing was full of insights. One point he made is that the confusion of consumers over olive oil definitions is no accident; it is the result of policies deliberately designed to help the seller, not the buyer, and to obscure the truth. He cautions about the abuse of technical language, instead advocating accurate, effective and useful information about olive oil characteristics. He is also skeptical of certification schemes, a theme he expanded upon later when he spoke about Denominations of Origin, believing them more a source of confusion than guidance for customers. "Communication strategy is different from information overload," he cautioned, "don't confuse information with communication." (I'll second that!)
He encouraged olive oil producers to explore innovative packaging, although he cautioned that market acceptance is not easy. Promotion must be tailored to individual segments, he suggests, and also that there is a discerning consumer out there who wants "the entire process to be extra virgin." Volume, he suggests, is one approach; emphasizing quality and product differentiation is another.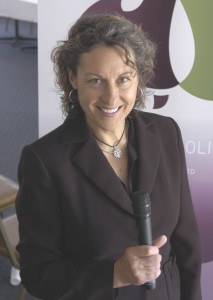 Market differentiation was a central theme of my own presentation on super-premium olive oil and its potential for New World producers. The idea of a standard of excellence such as the Association 3E Super-Premium Selection is to guarantee to the consumers that they are buying the best. The standard requires compliance not only to a very high chemical and sensory standard, but also complete traceability. There is also a commitment to diversity in olive varieties and flavor, a desire to preserve less commercial cultivars and "heritage" trees.
What drives a super-premium standard for the producer must be the value it confers in the marketplace; that seal of quality has to be worth something to the consumer, assuring them that although they are paying more for the product, it is exactly what it says it is and worth it. Small volume producers face huge hurdles in the market. They are competing for very limited shelf space and their products will always be comparatively expensive. Working together with other quality-obsessed producers to promote a seal that is a guarantee of excellence to the discerning consumer is one way to carve a niche in the market. This segment puts particular emphasis on the unique story of each oil, and depends a lot on education and communication, seeking the trust of the consumer through a connection to the producer.
The idea of inclusivity in the olive oil world was another theme of my presentation: the super-premium extra virgin sector does not compete with the regular extra virgin category, it enhances it. Where regular real extra virgin brings affordability and availability, and can be poured on for cooking and dressing with abandon, super-premium evoo has more prestige, "specialness," and is best used as a condiment or finishing oil. There is mutual benefit—and plenty of room—for both in the marketplace, just as in the world of wine. Another aspect of an inclusive approach is to embrace the good producers in the traditional olive world instead of drawing a divide between the Old and New Worlds; the real division is between honest producers of real extra virgin olive oil and those in the industry that mislabel and defraud, regardless of geography. Quality is a big tent and there is room for great diversity in regions, varieties, traditions, delivery systems, production models, etc.
Manual Parras Rosa and Tom Mueller talked about the DOP (Denomination of Provenance) system as a guarantee for consumers in Spain and Italy. The overall impression seems to be that although DOPs have been very successful for some products—some wines, cheeses and hams, for example—their success in olive oil marketing has been spotty. A DOP can be extremely important in protecting traditional production, supporting heirloom breeds and varieties, for example, but the proliferation of designations can make the landscape confusing. Ideally a DOP will simplify matters by uniting many small producers under a single DOP "brand." And like all of these designations, unless it has value in the marketplace it doesn't help.
At the close of his talk, Professor Rosa proposed an historic cooperation agreement between the University of Jaén and both the Australian Olive Association and the Univerisity of California Davis Olive Center. The agreement to cooperate in research and education initiatives was signed by Paul Miller for the AOA and Dan Flynn for the UCD Olive Center. It was a surprising and significant moment, a perfect symbol of the potential for progress through cooperation between the biggest established producer of olive oil in the world, and the young upstart industries of Australia and California.
Professor David Hughes from the UK talked about consumer trends and perspectives. Professor Hughes (who is, I must add, an absolutely hilarious, as well as extremely insightful, speaker) pointed out that one of the reasons Italy is such a force in the olive oil market is that it is so firmly associated with food in people's minds. He encourages marketers to think about their own story and who is the hero? Country or region of origin? The farmer? The production process? He believes that consumer interest in where their food comes from and who grows it is a critical element in today's marketing.
Mary Gillespie of Choice Magazine spoke of the organization's key campaign around food labeling: "If you pay for a premium product, you should be sure that you are getting it."  Choice is pushing for mandatory dating, both manufacture and "best by" dates. Mary said they are getting a "loud and clear" message that people want better and more accurate label information, and Choice has been an important supporter of the Australian olive oil quality standard.
A roundtable discussion about a New World Alliance for olive oil quality brought all these threads together. On the panel were with Paul Miller, Dan Fynn, Andries Rabie, and myself, with Bruce Golino joining from the US via cell phone. I started with a short presentation of the results of a small survey of California growers. A small sampling of CA growers from very large to small revealed that, in order, "consumer education, unfair competition and profitability" were the top concerns. The respondents had a much better opinion of the Australian standard than the USDA standard, and almost all thought a unified New World standard for quality was a good idea.
Paul described the concept of what is being called (working title) the World Olive Oil Quality Alliance. One interesting note: as recently as the when the conference program was printed, it was being referred to as a New World Alliance. I believe it is a testimony to the appeal of a more inclusive vision, and particularly the eloquence, commitment, and generosity of Manuel Parras Rosa of the University of Jaén, that by the time that final roundtable started, that "n" had become lower case; we were talking not about a "New World alliance", but a "new World Alliance" for olive oil quality.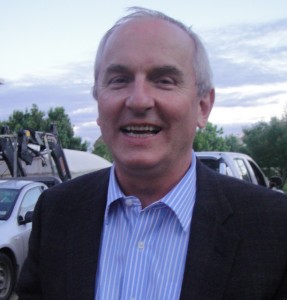 With an eye to starting this initiative in earnest in early January 2012, Paul Miller will head up the organization. Paul sketched a structure that would most likely be built not of individual members, but of member organizations. So far producer organizations in South Africa, California, Georgia (the US one) and Australia are involved, with interest in South America as well. The American Oil Chemists' Society would be the body to handle laboratory proficiency and accreditation for both chemistry and sensory analysis as well as monitoring and promoting developments in this area. The organization would also address packaging, handling and transport (finally!), eventually producing an ISO standard. The vision is to cover all olive oil grades on the premise that there is a place for each grade in the market; they just need to be accurately defined and honestly labeled. A freshness indicator is one possible addition to the standard and the label, an index that can be verified in a laboratory.
The importance of collaboration and connection was also mentioned. Universities and research institutions and consumer organizations are envisioned as key partners. And one of the recurring themes of the conference, creating that connection with the consumer, was acknowledged as a critical element. Paul cited the importance of communication and the essential role of education and outreach in making this whole thing work where the buck stops: in the marketplace.
There was a strong sense at this conference of being there at the start of something big. Many things are converging in the olive oil world right now—scientific advances, economic pressures, market trends, consumer awareness—and this meeting emphasized that. A mixture of industry commitment, broad cooperation and good leadership has led to the Australian olive oil industry taking a strong stand on quality assurance and consumer protection; now it's time for the rest of us to step up.
I would like to thank the AOA, especially Paul Miller, Lisa Rowntree and Leana Head for all their kindness and hard work. Thank you, too, to all the wonderful olive oil producers, researchers, purveyors and affiliates who gave so generously of their time, knowledge and hospitality during my visit Down Under.