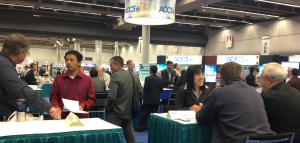 The 104th American Oil Chemists' Society (AOCS) Annual Meeting & Expo took place April 28–May 1, 2013 at the Palais des congrès in Montréal, Canada with 1500 people in attendance. The scope of the annual meeting is broad—there were over 500 presentations on all areas of fats and oils, reflecting the wide range of AOCS's activities—but olive oil is attracting increasing attention in this scientific community.
AOCS traces its history back to 1909 and the cottonseed industry, and has always had at its core the development and assessment of analytical methods for oils. It has grown from its US roots to become an international organization, with members and affiliates around the globe. One of the essential services of AOCS is its proficiency testing program for laboratories which sends periodic oil samples to participating labs around the world for analysis. AOCS then evaluates the results, comparing them to the known values of the samples, and provides feedback to the laboratory. Only when a lab consistently performs with accuracy and precision on these tests can it be granted AOCS accreditation.
In 2012, AOCS launched its olive oil sensory panel proficiency testing series in response to a worldwide demand for more trained and proficient sensory panels to assess olive oil quality. The International Olive Council (IOC) program of sensory panel recognition is available only to a limited group of panels, namely those affiliated with a government agency. Since there are many panels attached to private labs, institutes and companies that are not eligible for IOC recognition, AOCS stepped in with its olive oil sensory panel proficiency testing program which is open to all compliant olive oil taste panels.
An update on the sensory proficiency testing program was a topic at one of the olive oil meetings. Representatives from participating panels in the USA and elsewhere got a look at an anonymous summary of the results from the two rounds of samples evaluated to date and had an opportunity to give feedback. The 2013 series will include twice the number of samples—four rounds of four samples each.
The largest olive oil event was the 5th meeting of the AOCS Expert Panel on Olive Oil chaired by Richard Cantrill, AOCS Chief Science Officer and Technical Director. There were updates on the progress of olive oil standards around the world. Paul Miller of the Australian Olive Association—the driving force behind the formation of the olive oil expert panel—reported that the Australian standard adopted in 2011 was finally getting some traction with retailers and domestic and imported brands in Australia who are using it as a point of quality in their marketing. South Africa is also making progress on adopting a standard similar to the one in Australia.
Miller credited the seminal work in Northern Europe where quality parameters are being used by retailers to monitor the quality of olive oil over time. He also outlined the efforts underway in Italy to adopt a government standard for a grade of high quality extra virgin. There are ongoing efforts in Turkey and Israel to develop new standards as well. In an aside, Miller mentioned the challenges presented by China as an export market, where test results for unexpected things such as aflatoxin are sometimes required.
The USDA Quality Monitoring Program (QMP) was expanded to include olive oil in April 2012. At the Expert Panel meeting, the QMP update revealed that the program still has only one participating company at this stage, a bottler of imported oil. The representative of a domestic olive oil producer commented on this, saying that their company had investigated the program but found that it was not feasible for them to participate because of the burdens imposed by the testing protocol.
An update from Dan Flynn of the UC Davis Olive Center briefed the group on the work of the past year. A survey of foodservice olive oils to follow up on the two UCD reports on supermarket olive oils was published Sept 2012. The results from 15 extra virgin and 8 olive oil grade samples sourced from a major food service supplier, found one canola-adulterated sample per category, and overall quality and sensory testing found 60% of the samples not up to grade. There was also mention of testing on California olive oils to learn about the natural chemistry of the oil (fatty acid profiles, etc) and ongoing research to correlate chemical markers with sensory perception of rancidity.
In a discussion about testing methods, Claudia Guillaume of Modern Olives talked about her work over many years with pyropheophytin (PPP) and diacylglycerol (DAG) tests. She has retained samples of olive oils since 2010 and is testing them periodically to chart their chemistry as they age up to and beyond their Best Before Date (BBD). She reported that her findings are very consistent: PPP rises at 6-8% per year, and DAGs decline at 20-25%. The relationship between these indices and the free fatty acids (FFA) and ultraviolet (UV) results give a lot of information about the history of an oil—its quality when it was produced, and how it has been treated since then, she said. Guillaume also described the methodology she uses to determine a technically sound BBD, incorporating DAG, PPP, UV, FFA and Rancimat testing.
The challenges facing olive oil in the supply chain were a big topic. A new standard for flexitank liners is under development with a focus on the physical integrity of the bags. Input from the group on this topic was noted by John Hancock, representative from the Federation of Oils, Seeds and Fats Associations (FOSFA), an international body dealing with world trade in fats and oils. Oxygen permeability, leaching and absorbance were all suggested by panel members as important issues for olive oil containers. The need for recycling was also mentioned, as a way of preventing the reuse of liners.
In the Expert Committee meeting and at a subsequent study participant meeting, there was an update on an AOCS-led study into the effects of aging on olive oil. The study is looking at the changes in the chemistry and sensory properties of olive oil over time, using both standard tests and methods, and the "latest and greatest" in instrument technology. The primary topic of conversation was improvements and expansion of the project for the upcoming year, with particular attention to the idea of an optional "stress test" of the samples for additional information. A protocol will be enumerated for accelerating the aging of the samples so that labs and panels that may wish to go further with their testing to measure accelerated degradation effects in the oil.
In addition to the focus of the olive oil Expert Panel and study participant meetings, olive oil was the topic of a number of posters presented at the meeting. Projects on faster testing for PPP, olive oil storage temperatures, geographic origin characterization and the health effects of olive oil on women with diabetes were presented during the poster session. There was also a segment during the Rancidity and Antioxidant Assessment session on interpreting the sensory quality of virgin olive oil using volatile markers. D.L. García González from Seville, Spain, presented his work on the brain activity of people smelling various volatile compounds. The complicated nature of drawing conclusions about the reliability of volatile analysis for detecting defects was evident, due to the complex relationships in our sensory perception of odors—competitive effects for example—which make it difficult to know from a mechanical analysis of the volatiles what the final sensory perception will be. "Further work is needed on volatile interactions," said González, "We are far from replacing sensory panels."
AOCS Chief Executive Officer Pat Donnelly, shared his views on olive oil. "Since olive oil is not my background, I am coming at this from the perspective of a consumer. I am learning what's behind the production and supply chain issues, and quality standards," he said. "The consuming public doesn't understand all this."
When asked about the role of AOCS in the olive oil industry, Donnelly said, "We can advance the science and technology, the development of standards, as we have in all the industries we're involved with. Then we hope consumer and government entities will use the information to make informed decisions." As Donnelly put it, "We are about the science."
This article originally appeared in Olive Oil Times.