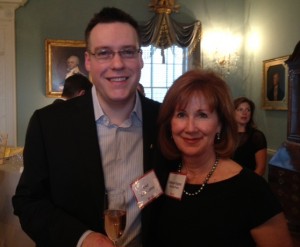 Everyone knows that an army marches on its stomach, but it took Secretary of State Hillary Clinton to highlight on the fact that diplomacy does as well. California extra virgin olive oil was among the foods chosen to showcase the best of American cuisine at the launch of the Diplomatic Culinary Partnership Initiative on Friday, September 7th, at the US Department of State in Washington, DC.
California olive oil pioneer Deborah Rogers of The Olive Press, honored by Olive Oil Times as US Producer of the Year in 2010, was invited to attend the event and supply olive oil for the participating chefs. The Olive Press, most awarded olive oil maker in the country, provided Picual and Arbequina extra virgin olive oil for use in the prep kitchen and for gifts. VIPs, chefs, food journalists and media received bottles of the Best of Show-winning mono-cultivar olive oils in their gift baskets.
"Food matters," was a recurring theme at the inaugural event commemorating this unique partnership between the Department of State and the James Beard Foundation. This initiative draws on top chefs from across the United States—the American Chef Corps—as resources for a program developed under the guidance of US State Department Chief of Protocol Capricia Penavic Marshall. The list of over 80 chefs who will serve as educators and culinary ambassadors is impressive, including Jose Andres, Bryan Voltaggio, Masaharu Morimoto, Emily Lucchetti and Joanne Weir, to name a few.
The recognition that food unites us is at the heart of this initiative. Although negotiation over the dinner table is nothing new, Secretary Clinton has been a champion of importance of the actual food that appears on the table. Previously the State Department relied on local caterers who offered standard menus. Now there is much greater attention being paid to the food from both a culinary and a cultural perspective.
A meal last February for Chinese vice president Xi Jinping is a perfect example of how food can connect people. Chinese-American chef Ming Tsai, of Blue Ginger in Wellesley, Mass., served soy-marinated black cod and eight treasured rice packet with dried fruit and pork sausage. When Mr. Xi met the chef, "his eyes lit up," said Marshall. "They spoke Chinese, and according to the translator, he said, 'Isn't this wonderful.' "
Deborah Rogers describes the culinary diplomacy kick-off as "an amazing and humbling experience for me…. Being just a simple olive oil maker, I felt very small in that room last night. The good news is the chefs I spoke to really sang the praises of using olive oil in their kitchens." Food Network's Amanda Freitag was succinct when she met the olive oil maker, "Oh my God, I love you!" she said. Another of the celebrity chefs present at Friday's reception was Mary Sue Milliken of Border Grill and television fame. "I was happy to see your oil in the kitchen, but we used it all up!" Someone had to make an olive oil run to resupply the kitchen.
Jason Larkin, Executive Chef for the State Department's Chief of Protocol, sought out The Olive Press during a mission to Sonoma County seeking great local products. Olive oil was on his list of necessary ingredients, and while researching artisan California producers he came across numerous mentions of Deborah Rogers. She was exactly the sort of quality-obsessed culinary pioneer he was looking for so he scheduled a visit to The Olive Press for a taste. An official invitation to supply olive oil and attend the event followed.
Rogers was clearly delighted by her experience in Washington. She sees it as a great recognition for the California olive oil industry she has championed all these years. Sharing a table with fabulous artisan foods from around the country, and the creative cooking of wonderful chefs, the extra virgin olive oil from California was clearly a popular—even indispensible—ingredient.
In addition to the extra virgin Picual and Arbequina, Rogers brought another one of her products with her to Washington. When she learned that the Secretary of State was fond of popcorn and also of spicy food, "I gave her a bottle of Jalapeño olive oil for her popcorn." Movie night in DC won't ever be the same again.
This article appeared on Olive Oil Times.