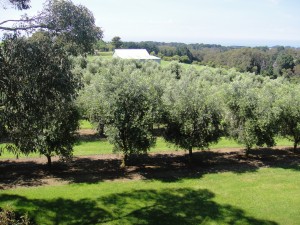 The Mornington Peninsula is  like the Sonoma or Napa County of the Melbourne area. The landscape is lovely, and they produce first-rate wine, olive oil and other good things to eat. After our visit to the "big is beautiful" world of Boundary Bend, Dan Flynn and I took a little day trip to visit Leontyna, a boutique olive oil producer in the Mornington Peninsula. I had been told that Jill and Julian had a very nice olive grove, but I didn't realize that they had been recognized as Olive Grove of the Year in 2010. The reason for the honor was amply illustrated by a walk through their grove. Their farm has garnered an impressive array of awards for their olive oils as well, so the beauty is more than skin deep!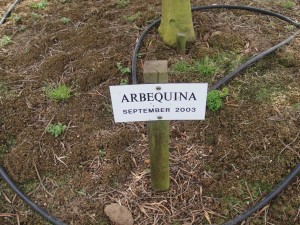 The grove contains 1,100 trees on about 10 trim and tidy acres. Even the identification tags on the rows are nicely done, with the name of the variety and the planting date on a weatherproof plaque. They are growing Frantoio, Leccino, Pendolino, Picual and Arbequina. It was interesting to note that they irrigated very little, using it primarily for the delivery of a carefully calculated fertilizer regimen. They do regular leaf tissue analysis to determine the nutrient status of the trees and then feed accordingly.
For harvest, they use a small shaker with an umbrella catcher. Unlike most of the umbrella shakers I've seen, which are mounted on full-sized tractors, this is a much smaller unit. It is three-wheeled—more maneuverable—and comparatively light. During their last harvest, which saw a fair bit of rain, the harvester had some challenges with mud but at least it was able to get into (and out of!) the grove.
Jill and Julian treated us to a delightful lunch during which we tasted the Leontyna Picual. Even though this was the previous year's release, the green tomato aromas of the oil were wonderful. Once again, Picual certainly stands out as an excellent olive variety in the grove, the mill and the bottle. Picual may well be my "desert island" olive; if I had to choose one olive variety to be marooned with, I think that's the one (gee, I sure hope I'm marooned with an olive mill, too).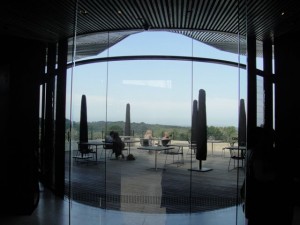 When we were finally able to tear ourselves away from the good food and lively conversation, we took our hosts' advice and stopped in to visit a couple of wineries, including the architectural landmark Port Philip Estate. The building is rammed earth, the largest such structure in the Southern Hemisphere, and curves gracefully on a hillside. But the real jaw-dropper is the view out the back over vineyards and woods out to the sea. Pairs nicely with a glass of Shiraz.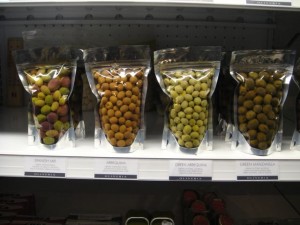 The following morning, on Jill and Julian's recommendation, we stopped into Oliviera just off Chapel Street in Melbourne. The shop is lovely, carrying a fine selection of artisan olive oils, specialty olives, and gourmet food products. They carry olive oils from around the world both in bottles and bulk. It was great to see Australian-made specialty olives made with a range of cultivars: Arbequina, Kalamata, Manzanillo and others. We tasted a number of different styles and cures, and left with a bag of delicious green Australian Arbequinas. I was also struck by the company's commitment to community and social issues; an upcoming fundraising event will benefit a local mission and their new chef training program. Good olive oil in the service of a good cause—great combination!