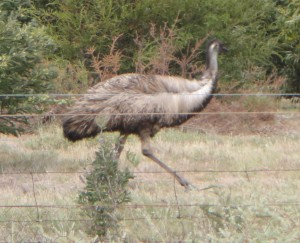 The long-anticipated tour of Boundary Bend Ltd began when Andrew Burgess took Dan Flynn of the UC Olive Center and me to the Modern Olives/Boundary Bend facility in Lara. This is near Geelong, by the way, home of the champion Geelong Cats, of the Australian rules football league. Aka "footy," this game is played without padding or helmets, and is clearly not for wimps. I asked about how it works, and only got as far learning that you can kick or punch the ball, but can't run with it without bouncing it periodically… Someday I will go to the local sports bar and try to convince them to put the footy on so I can see what it looks like. Andrew, a knowledgeable and thoroughly delightful guide, took us on a brief detour around a nearby wildlife refuge. We saw a couple of emus—looking pretty frisky—and a group of drowsy kangaroos. I didn't fret too much at the torpor of the 'roos because I figured I would see more later, preferably not imprinted on the hood of the car, but at least bouncing around a little.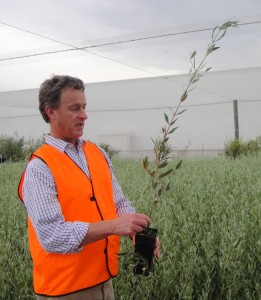 I can't do justice to the tour of the Lara facilities without writing a 20-page paper, so I'll try to keep it to a summary. First was lunch and some time with Leandro Ravetti. Every time I see Leandro, my respect for him grows; his knowledge and skill are truly astounding, and he is extremely generous with his time. Leandro gave us some history of the company and an overview of the Australian olive oil business. From there, we toured the Modern Olives Nursery with Andrew. They propagate all the trees for their own farms and also for sale to other growers and retail nurseries. The olive tree that goes to a grower is three to four feet tall, sturdy and unstaked, about 15 months old in a 3.5 x 8 inch pot.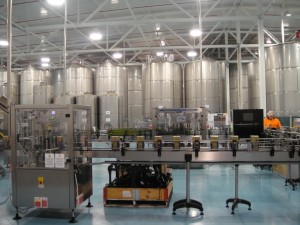 We went through the bottling facility next, decked out in our hairnets and safety orange vests. They package in numerous different formats, from 250 ml dark green bottles all the way up to 21 liter drums. There is constant attention to quality preservation. The buildings are heavily insulated and kept cool. Containers are flushed with nitrogen to avoid oxidation. Oil is stored in bulk in these temperature-controlled warehouses in atmosphere-controlled stainless steel tanks.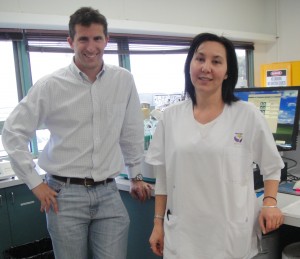 After storage and packaging, we went to see the Modern Olives lab. Claudia Guillame, who is in charge of both chemical and sensory analysis, gave us a tour of the lab. Claudia is a top oil chemist, and in addition to the commercial work she oversees in the lab, is also continually engaged in research projects that are helping to expand the knowledge of olive oil chemistry as it relates to practical application. Critical work! The lab analyzes about 1500 samples a year, and in their sensory lab, the panel tastes an average of three times a week.
The following morning we were drove up to the Boundary Bend farm with Pablo Canamassas. Pablo's area of expertise is processing, but on the long drive to the farm, we talked about many aspects of the olive oil industry. Pablo is yet another jewel in the BBL crown—what an amazing guy! He gave us a great tour of the processing plant at Boundary Bend. Again, the scale is really big. The small decanters run 7 tons/hour, and the large ones do 10 tons—the plant produces about 80,000 liters a day. And the processing plant at their other location in Boort produces even more. And yet, even with this huge throughput, they are making really good—and in the case of the Cobram Estate Reserve, truly excellent—extra virgin olive oil.
We finished our visit with a drive around the farm with Ryan, the orchard manager. He showed us the systems used to manage irrigation and fertilization—all computer controlled and minutely monitored—and also how the trees are planted and trained in the groves. We got a look at the Colossus harvesters, too; they are being completely serviced one by one in preparation for the next harvest season. These things are truly enormous; even though I knew they were big, it took standing next to one to really get the perspective. And once again, we could see how the people make this company what it is. Ryan is an utterly unassuming but brilliant farmer (and a heckuva nice guy, too). After our tour, he took us to the nearby town of Mildura. Dan Flynn and I marked the end of the BBL portion of the trip with a fine dinner of braised lamb and Mildura Brewery beer.
The quantities of oil produced by Boundary Bend are massive—9.1 million liters this year—but there is an unwavering commitment to quality in their production practices. In fact, the entire company philosophy supports this, with a company culture that encourages innovation and research. I tip my hat to Rob McGavin and Paul Riodan, the co-founders of the company: they've done a fantastic job. They seem to have a tremendous ability to recognize talent and cultivate it, and to reach that good leadership balance of clear direction and flexibility. There is also a wonderful openness and generosity in the company culture. BBL is extremely supportive of the entire Australian—nay, world—olive oil industry, sharing these great people and their work on behalf of quality and efficiency with others. My thanks to all of the wonderful folks at Boundary Bend for an amazing visit, and as you'd say here in Australia, "Good on ya!"